Lessard joined the regional firm in 2007 after running a small firm that found a niche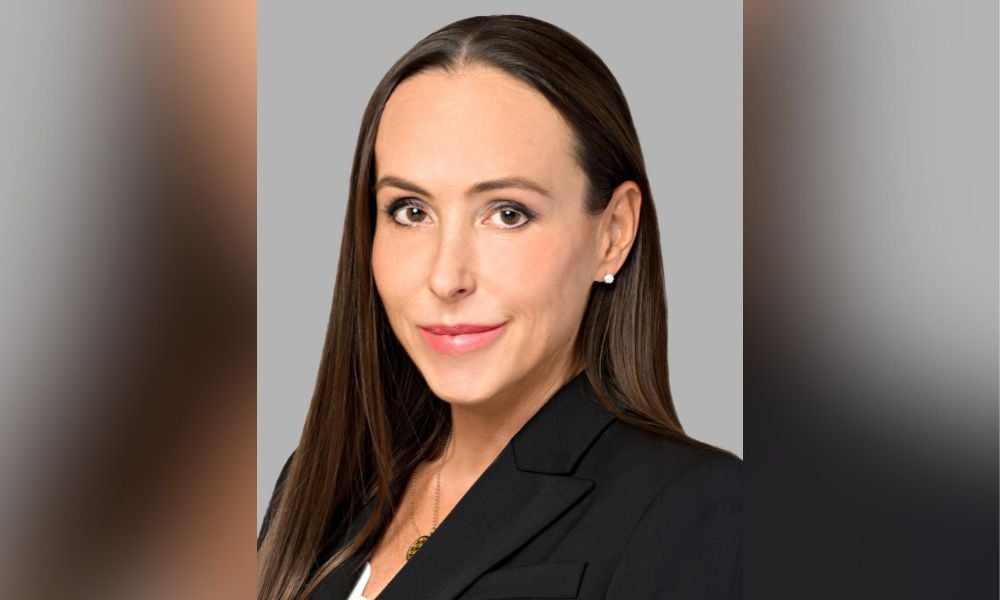 Before law school, Julie Lessard developed a passion for international humanitarian law. During her pre-law studies, she travelled and volunteered on projects in Nicaragua, Malaysia and Zimbabwe.
However, she felt disillusioned with what she could achieve overseas. So, after completing law school, she worked at labour law firms in Sherbrooke, Quebec, providing HR and business advice to clients.
Yet her passion for international affairs did not decrease, so Lessard combined this passion with her budding business experience and launched an immigration law firm at 25.
"If I looked at it today, I would be scared to death. But at the time when you're starting, you have nothing to lose."
Despite having no specialized expertise, Lessard says she managed to gain the trust of several clients at large companies, who were willing to have her learn along with them about the evolving business immigration rules. Lessard says most Canadian lawyers did not realize the potential for this area of law.
"No one was doing that at the time. Most lawyers were not aware that there was a part of US immigration law that you could do as a foreign-born lawyer."
As her client list and their immigration needs began to grow, Lessard moved from Sherbrooke to Montreal. "Our success rate was close to 100 percent. So even if we had to learn in the field, we were good learners and did things correctly." Lessard says she also developed strong relationships with immigration agents.
Her experience running her firm also meant business development was a priority from the outset.
Yet the administrative tasks of running her firm also increased, so Lessard had to decide if she would hire an operations manager or join another organization such as an accounting or law firm.
"I started my own firm at 25, by myself, with no advice from anyone else," says Lessard. She realized working with other partners in different practice areas would help her clients, so in 2007, she decided to join the partnership at BCF. She immediately joined the firm's executive board, which helped her better understand how the firm worked.
Lessard moved away from doing individual immigration cases and focused on files that institutional clients and projects supported. Today, she has over 40 people on her team, and she can draw on a wide range of other experts at BCF like tax, employment, IP and corporate lawyers.
In addition to her work helping clients hire senior executives and professionals worldwide, Lessard advocates for business through volunteer work in Quebec. She has worked with the Canadian Employee Relocation Council (CERC) for over 10 years and is also a member of their government relations committee.
Recently, she was the keynote speaker at the CERC's first in-person event in March, speaking to participants about immigration trends in Quebec and the ban on residential property purchases for non-Canadian residents. She will also participate in the CERC's flagship pan-Canadian event in September, bringing together several key players in the workforce mobility industry in Vancouver.
"We are monitoring the changes in immigration law in Canada and trying to have an impact on what's happening," says Lessard.
This work has allowed her to broaden her impact far beyond her files.
"I want to be an expert, I want to keep growing as a partner, but I really feel the need to also be active. I have an opinion on what's happening in immigration law and regulations. And I want to be able to speak out and try to change things."
Lessard also sits on the American Chamber of Commerce in Canada's board of directors for the Quebec division, which she has done since 2008. Last February, she participated in a roundtable organized by AmCham Canada's Quebec chapter with the Consul General of the United States, Ana Escrogima, to discuss economic cooperation relations between the province of Quebec and the United States and immigration-related issues.
Lessard was also invited to be the keynote speaker at the upcoming US-Canada Financial, Economic and Investment Executive Forum hosted by the New England – Canada Business Council and the Canada Counsul General Rodger Cuzner.
The Conseil du patronat du Quebec, which acts on behalf of more than 70,000 employers in all industries, regularly seeks Julie's opinion on various business immigration and labour mobility issues. She is also involved with the Canadian Manufacturers & Exporters. This business association represents more than 1,100 manufacturing companies dealing with staffing, innovation and export issues by acting on their behalf before the provincial and federal governments.
For her client work, Lessard says she loves meeting new clients and learning about their business. She also sees the cutting edge of economic trends. For example, she recently helped a client attract workers to Montreal with artificial intelligence expertise.
"There's the human component because you're dealing with people from all over the world with their cultures, their way of doing things, even their business cultures."
Lessard says BCF prides itself on its balance between its use of technology and personal touch, and the firm ensures a low lawyer-to-paralegal ratio.
On the other hand, her advocacy work has allowed her to rekindle her passion for international issues that she had in her undergraduate days.
"I'm going back to my first days, trying to change the world … Now I want to change things and make sure that Canada is going in the right direction, to attract immigrants and keep them."