There are many courts 'where we should be able to do more remotely,' says C.J. Maisonneuve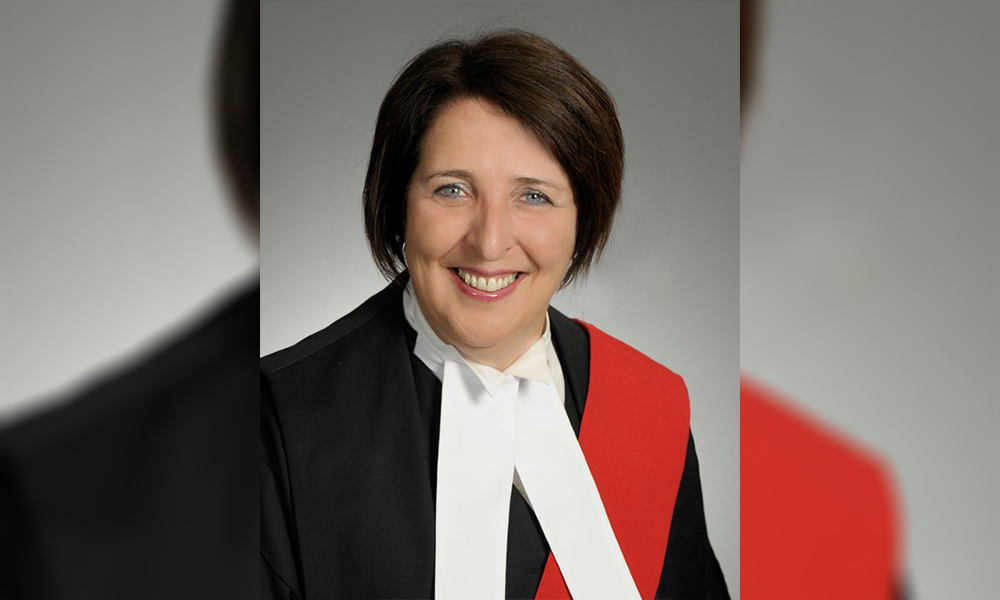 As courts across the country have struggled to continue operating in light of COVID-19 and the physical distancing required, Canadian Lawyer has surveyed chief justices of courts across Canada on how they are managing the crisis.
Here, in the last installment of our series, Chief Justice Lise Maisonneuve of the Ontario Court of Justice answers Canadian Lawyer's questions about COVID-19's effects on her court.
What are some of the adjustments you've had to make since COVID-19 was declared a pandemic?
You can imagine the adjustments we've had to make; they come from the challenges about how we provide justice under dramatically new conditions. How do we continue to do that fairly, and in a transparent way, given the overburden courthouses and historic type of antiquated processes that we have in our system?
The first thing we had to do was to make the adjustments to get people out of the courtroom, and [ensure] we were still proceeding with matters in a remote or virtual fashion. This was extremely difficult; we are still in a paper-based process. We had to move very quickly, working with key stakeholders and the Government of Ontario.
In the long term, we're always thinking of what can we keep in place to modernize the process afterwards, to make the system more efficient, better access to justice, and much easier for the public who use the court. I hope we'll end up with the modernization that … we've been waiting for quite a while. And this is now pushing that agenda much quicker than in the past.
Do you think that going forward, there might be more of a shift to, for instance, remote hearings?
Absolutely. I think what [the pandemic has] done is that it has brought to the table people to start thinking differently. We won't be doing things as we have. There'll be great change in Ontario. The number 1 thing is we can't continue [with] a paper-based process.
Trials are a little bit more complicated, but we will and we are presently doing some of our hearings remotely. We hope to expand that; maybe not a full trial, but the arguments could all be made remotely. Some witnesses could be called virtually, but there's Criminal Code impediments to that.
But we do have to move forward with thinking outside the box, and to do things differently and see what can be done, and it's not going to be a one-size-fits-all; we're going to have to be nimble.
What is your greatest concern right now?
Preserving the health and safety of everyone who's using the justice system. And that I think that the challenging reality is that to do so safely, it will be a gradual and phased return, but always ensuring that the most vulnerable are protected, and that urgent matters are dealt with through the process will be paramount. There's no doubt that some of our matters will still need to be heard in the courtroom, physically; but we also have to continue expanding the virtual options in order to do both.
One of the issues that we have is the lack of video capacity in our institutions, in our jails. We do not have the capacity to deal with longer matters from the jails: in other words, to bring the accused to the courtroom through a virtual process, either by phone, or by video. I'm talking [with] the ministries of the Solicitor General and the Attorney General, and lawyers and court services, and I hope that there will be a solution soon.
What are your courts considering "urgent" matters that must proceed now?
The most urgent matters are where the accused is in custody; matters under the Child, Youth and Family Services Act; bail proceedings; and other matters, out of custody, where someone may need a variation, [or] to finalize a matter for work purposes, for family purposes.
What have your experiences been in operating a virtual courtroom?
It's proven to be extremely challenging. We had to develop very quickly a system where the paper part of the process [could be dealt with efficiently]. And at the beginning, the quality of the hearing, being able to hear properly, being able to see properly [was difficult], a call can drop.
But these things are being worked out quite, quite well. With the help of Court Services and the Ministry of the Attorney General, we're trying [videoconferencing] platforms and getting better. We are starting to use Zoom. For our own conferences, outside of court, we are using Microsoft Teams.
The most serious challenge is getting the accused in custody to be part of the proceedings in a virtual world, and we have many vulnerable people who do not necessarily have access to the internet, or even a phone to be put on. We have a great deal of self-represented individuals in our system who did not obtain legal aid or cannot afford a lawyer; and it's very difficult to deal with that because they don't have access to what you and I may have access to, and of course, they are the most vulnerable of our society.
What can lawyers do to help the courts overcome its challenges?
I think lawyers, like us, have to think a bit outside of the normal, usual way of doing things. I would like them to test the virtual system.
The collaboration at the present time between the bar and court has been excellent; we have a great deal to be proud of. Everyone has come forward to work hard and find solutions; I've very grateful for that. We have to continue working together.
And there are many courts — remand courts — where we should be able to do more remotely. We must find a way to do first appearances online, if we want to reduce the number of people coming physically to a courtroom.
There's a real opportunity to modernize the system, and it seems to be going in that direction.