Some law schools making process, but others must improve efforts to right historic wrongs: report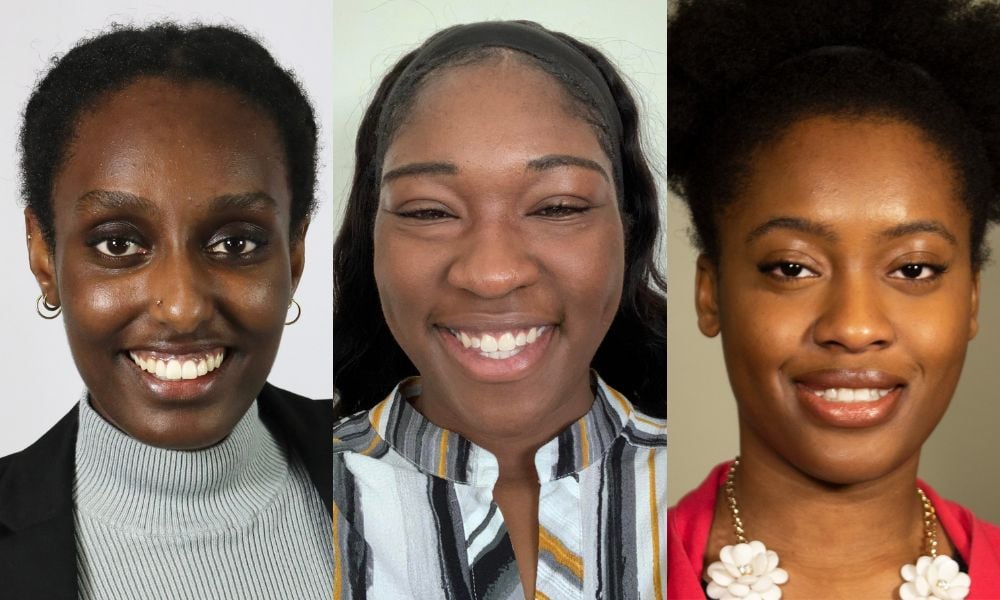 According to a survey by the Black Law Students Association of Canada, developing programs that reflect inclusiveness correlates with the number of Black students enrolled in law programs at Canadian law schools.
"As marginalized peoples whose generations have struggled from the reverberations of slavery – in different parts of the world including Canada – and other discriminatory legislative policies, it is important to provide an equitable application process specifically for Black law applicants," says the report, released this week in conjunction with Black History Month.
"There is a benefit to having 'inclusive, access, and discretionary' categories. They provide an alternative for applicants who do not meet specific grading percentages, LSAT scores, and who experience certain cultural, socioeconomic, medical, or physical barriers."
Mirabelle Harris-Eze, national president of the Black Law Students' Association and a third-year student in the JD program at the University of Calgary, notes that the survey of universities shows that law schools that make a concerted effort to recruit Black students through various programs and opportunities, generally have a higher percentage of Black students in their programs.
Holistic admissions process
"We found that schools that tended to have more Black students often had holistic admissions processes, where students could discuss their issues related to being a minority and navigating through life," says Harris-Eze. "These admissions processes allow students to provide more context to their application."
She adds that those law schools with more Black students also offered scholarships, bursaries, and resources "specifically tailored" for them.
For example, the University of Calgary has 390 students in its entry law program, of which 31 are Black, or 7.9 percent of the total. That proportion is higher than the percentage of the province that is Black (4.26 percent) and in Calgary (5.12 percent).
Harris-Eze notes that the law school has a "holistic" policy for admission and a Black Student Admissions Process (BSAP) introduced for the Fall 2021 admissions cycle.
In the online application, all applicants are asked to indicate if they self-identify as Black. If they answer yes, they are eligible for the BSAP review process and are invited to complete an optional personal essay of up to 1,000 words that is part of the overall review of their application.
If a second assessment is needed, it would be done by the Black students' admissions process subcommittee, which includes members of the BLSA, Black law faculty and Black members of the broader legal community. There are currently 11 members of the Black legal community who sit on this sub-committee as well as Black students and faculty representation on the admissions committee.
Toronto Metropolitan University's Lincoln Alexander School of Law has 59 Black students in all years of its entry law program, out of 460, or 12.83 percent. That compares with 5.4 percent of the province's population who are Black, and 9.48 percent in Toronto.
In addition to the school's numerous bursaries and scholarships aimed at Black and racialized students, the Lincoln Alexander school offers a personal statement portion in its admissions process that allows applicants to discuss equity factors, work/life experience, and diversity factors if they apply.
Applicants can also apply under the "access" category if they identify as a Black person, 2SLGBTQ+ person, a person with a disability, a racialized person or if they are part of another historically disadvantaged or underrepresented group. If an applicant applies under this category, they can expand on their unique experiences in their application.
Osgoode Hall law school at York University was the first among law schools to use a holistic admissions process when, 15 years ago, it adopted policies for selecting students that go beyond LSAT scores and grades to more fully assess an applicant's potential to excel.
Professor Ben Berger, chair of the school's admissions committee, says Osgoode receives more applications every year than any other Canadian law school, perhaps partly because of the holistic admissions policy. "It's undeniably enhanced our ability to identify students who stand to make the best contribution to learning law and practicing law – and ultimately to society at large." The result is that about eight percent of Osgoode Hall students today are Black.
Rebecca Mesay, a first-year student at Lincoln Alexander and a member of BLSA Canada's advocacy committee, says is the "new kid on the block," since it will only be graduating its inaugural class this year. However, it is known for its "very holistic" admissions process. The result, she says, is that "it would be a rare experience not to have at least one other Black student in any class."
She says there isn't even a minimum LSAT score, "because they are looking at your overall application when assessing your portfolio, which is unique."
The school's mandate is to look at innovative ways of approaching equity "to overcome barriers that usually filter students who have really great potential in terms of becoming lawyers but are unable to overcome systemic barriers that stand in their way."
Mesay adds: "I would say I've never experienced such a diversity of opinion and life experiences, as I have at this school. We have mature students, students who are coming from innovative backgrounds, people who are parents."
The need to improve access to law schools for Black students
The BSLA survey notes some law schools have very low numbers of Black students and no special admissions process or scholarships and bursaries to encourage applications from the Black community.
For example, the Bora Laskin Faculty of Law at Lakehead University in Thunder Bay confirmed only one Black student in its JD program out of 195 students in all three years.
The faculty also noted that it has no scholarships, awards, or bursaries specifically for Black-identifying students. However, it does have several awards that seek to recognize equity-seeking groups by prioritizing candidates from historically disadvantaged groups.
In the past, candidates were asked to comment on their connection and experience with the faculty's three mandate areas: Aboriginal and Indigenous law, environmental and natural resources law, and small-town practice. The faculty has acknowledged that this framing "may be limiting to Black and racialized applicants," as they may have faced systemic barriers to inclusion within the mandate areas.
As a result, the application process at the school now includes this statement. "We recognize that it may be more difficult for Black and racialized applicants to situate their application given the long history of conceiving settler-Indigenous relations as a relationship between First Peoples and white people.
"In light of this history, we want to clarify that we invite reflections on Indigenous-Black relations and the role of racialized people in reconciliation and decolonization.
"We welcome the thoughts of applicants on the historical exclusion of Black and racialized communities from environmental protection and natural resource development. We also welcome applicants' thoughts on the challenges and contributions of Black and racialized communities in small-town practice or as sole practitioners, as they may have faced systemic barriers to inclusion within the mandate areas."
The law school at Thompson Rivers University in Kamloops, BC, indicated only one Black student enrolled, out of 347 in all three years. The percentage of Black people in the province is 1.6 percent, and 1 percent for Kamloops.
The school says it does not collect diversity data outside of sex and that the only racial data collected is for Indigenous students, adding: "Therefore we have no way of knowing how many Black students have applied, have been offered a seat, and how many have attended our school over the past ten years."
The next steps to right historical wrongs
The report makes several recommendations, including:
Law schools should incorporate a Black admissions category that provides an alternative to grades, LSAT schools, which may not account for socioeconomic, cultural, or other barriers

Law schools should introduce or expand scholarships, bursaries, and LSAT program offerings specifically targeted at aspiring and current Black law students
Law schools must incorporate more critical discussions of race led by informed instructors

Mandatory equality, diversity and inclusiveness training for faculty and the student body

Law schools should collect race-based data

Law schools should support any Black law students' associations on campus

Law schools should endeavour to hire more Black professors
Rachel Lewis, a law student at the University of Victoria who is also national director of advocacy for BLSA Canada, says that while grades and LSAT scores can be an essential part of the admissions process, there are often barriers that prevent Black and racialized students from getting the tutoring or resource books that others might have because this can often be expensive.
"So I think a Black students admissions process would be helpful to get a better sense of understanding the lived experience of those who apply and what they can bring, in terms of their skills or characteristics, to the law school to the law faculty."
Here are the data collected by the BLSA. In many cases, these numbers are estimates.
British Columbia
(1.16% of population is Black)
Law Faculty
Percentage of Black Population
University of Victoria Faculty of Law, Victoria (includes Indigenous law program)
2.5% in JD, 2.4% JID
Peter A. Allard School of Law, University of British Columbia, Vancouver
4.53%(estimate)
Thompson River University Faculty of Law, Kamloops
0.2% (estimate)
Alberta
(4.26% of population is Black)
Law Faculty
Percentage of Black Population
University of Alberta, Edmonton
0.7%
University of Calgary, Calgary
7.9%
Saskatchewan
(2.05% of province is Black)
Law Faculty
Percentage of Black Population
University of Saskatchewan Faculty of Law, Saskatoon
1.3%
Manitoba
(3.56% of population is Black)
Law Faculty
Percentage of Black Population
University of Manitoba
2.51%
Ontario
(5.4% of population is Black)
Law Faculty
Percentage of Black Population
Bora Laskin Faculty of Law, Lakehead University, Thunder Bay
0.5%
Western University Faculty of Law, London
3%
Queen's University, Kingston
2.8%
University of Windsor, Windsor
5.4%
Lincoln Alexander School of Law, Toronto Metropolitan University, Toronto
12.3%
University of Toronto, Toronto
4.24%
Osgoode Hall Law School, York University, Toronto
8%
University of Ottawa Faculty of Law – Civil Law, Ottawa
--
University of Ottawa Faculty of Law - Common Law, Ottawa
2.99%
Quebec
(4.97% of population is Black)
Law Faculty
Percentage of Black Population
University of Montreal Faculty of Law, Montreal
1.6%
University of Quebec at Montreal, Montreal
--
McGill University Faculty of Law
8.4%
Laval University Faculty of Law, Laval
1.05%
University of Sherbrooke
2.31%
New Brunswick
(1.57% of population is Black)
Law Faculty
Percentage of Black Population
University of Moncton School of Law, Moncton
9.46%
University of New Brunswick Faculty of Law, Fredericton
1.45%
Nova Scotia
(2.91% of population is Black)
Law Faculty
Percentage of Black Population
Dalhousie University Schulich School of Law, Halifax
7.55%
NWT
Law Faculty
Percentage of Black Population
Akitsiraq Law School, Iqaluit
--