Barnes thought she would always be in house, but the Western firm's practice broadened her reach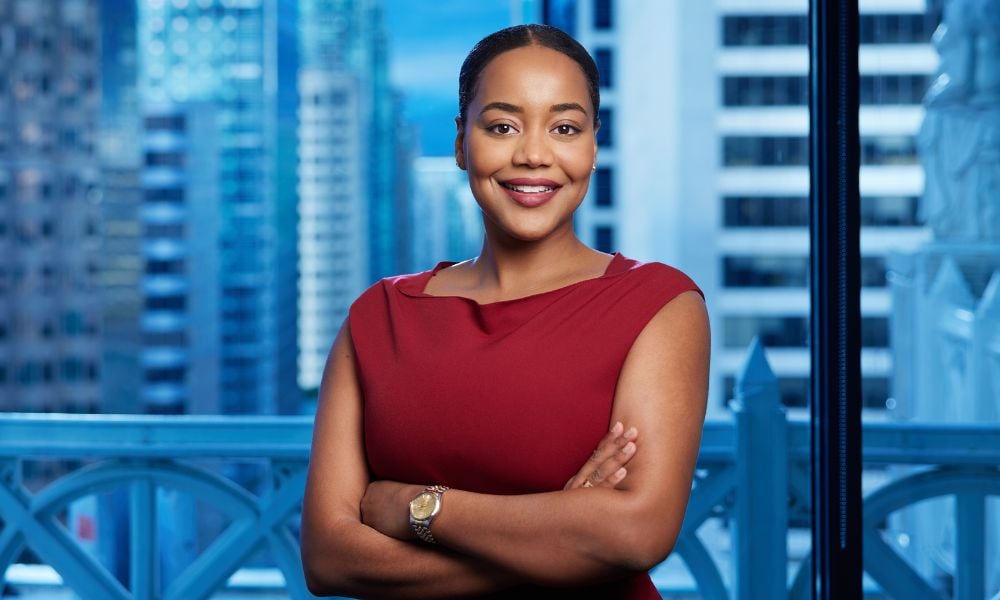 Cecilia Barnes knew from an early age she wanted to be in business. She entered law school so she could work with entrepreneurs and business executives.
When Barnes looked for opportunities after graduating, she focused on working in-house.
"I thought, I've taken all of these courses in business and trademark and copyright. So, any company is going to be so excited to have me."
So, Barnes started cold-calling businesses instead of participating in on-campus interviews with law firms. They all told her the same thing: You need three to five years of law firm experience before we will hire you. So, she took an articling position at a commercial litigation law firm in Toronto.
During her cold calls, though, Barnes had connected with Dana Gordon, who launched the law firm Benchmark Law in Vancouver.
"She developed and created something that I would have wanted to develop and create, which was a law firm that helps start-ups and entrepreneurs with all of their business needs across the board."
Gordon's approach made Barnes realize that legal skills went hand in hand with business and sparked a new passion for the law.
"I loved how it wasn't about chasing financial gain for the firm. It was really about helping [Gordon's] clients. I had never met anyone like that. She really cared."
So, Barnes moved to Vancouver and joined Benchmark Law as an associate.
"Dana took a chance with me and guided/supported me during my initial years in law," says Barnes. "At Benchmark, I got to work with my kind of people – people with a passion for business – entrepreneurs and start-ups to long-time business owners with years of experience behind them."
Barnes also joined Toastmasters, attending regular breakfast meetings and networking events for small companies to "drum up business" for Benchmark Law.
In addition to surrounding herself with entrepreneurs, Barnes also became one. She launched an organic makeup line called Beausoliel Organics.
"I would show up and, depending on the event, I would be speaking about my makeup line to display in local markets, or I would put on my lawyer hat if the entrepreneur were someone I thought my firm could help."
She would wake up at 5 am to go to her 6:30 am Toastmasters to network for her legal practice, work 9 – 5 pm as an associate, attend another networking event at 5 pm, and work on her business between 7 pm and 12 am. Late into the night, she would work on her website, packaging, photoshoots, product testing, thank you emails to purchasers, social media posts, invoicing, mailing, contracts with markets, and influencer contracts.
A highlight for Barnes was when the Kardashian's makeup artist posted herself in Beausoliel Organics and tagged the company. Barnes still has the screenshot to prove it.
Barnes was also planning her wedding in Toronto and realized something had to give. So, she closed her business and chose to focus on legal practice.
"I was growing that love for the law."
However, Barnes was still set on working close with a business, so she started to knock on doors again for in-house positions, despite still lacking three to five years of law firm experience.
She eventually returned to Toronto and accepted a position as a contract manager at dentalcorp, which acquires dental practices across Canada.
"It was not a legal counsel role, but at least it was a foot in the door of a company. I thought if I could prove myself as contract manager, I could be promoted into a legal counsel role."
Barnes says she wanted to start with a young company to help them get established and scale.
"The five years I spent at dentalcorp were some of my greatest, but they also came with steep learning curves. It is a very fast-paced growth-oriented company."
The general counsel who hired her, Guy Amini, also then went on to become the president.
"It was really an impactful five years of my career from both the business and law side, seeing how someone like Guy can use his legal degree to [become] the president of the company."
Barnes eventually moved back to Vancouver when an opportunity arose to join the tech company Owl.
"I thought this would be a great time to use what I learned during the last six years of practising law to join a tech company in a leadership role."
Owl also had a social impact that resonated with Barnes. The company sold technology to insurance companies to help them avoid bias in fraud indentification.
Barnes says many insurance companies will use archaic methods, such as looking at postal codes, which can have discriminatory effects. Owl's technology helps these companies look at the facts instead.
Having joined a growing company with an appealing mission, Barnes was not looking to join a law firm. "My plan was to always stay in house because of my love of business and working with the different business functions in a company."
However, Barnes met the technology group members at Lawson Lundell and realized that their tech group was a great fit.
"This would be an opportunity to work with many companies and help them get established and scale and bring all the knowledge I gained at dentalcorp and even at Owl in the tech space to these different companies… It is all about the people I get to work with – start-ups and entrepreneurs in the tech space are my kinds of people so getting to work with many at the same time is what makes my job interesting and fun."