Canadian Lawyer panel also discussed the legal sector's room to grow in technological augmentation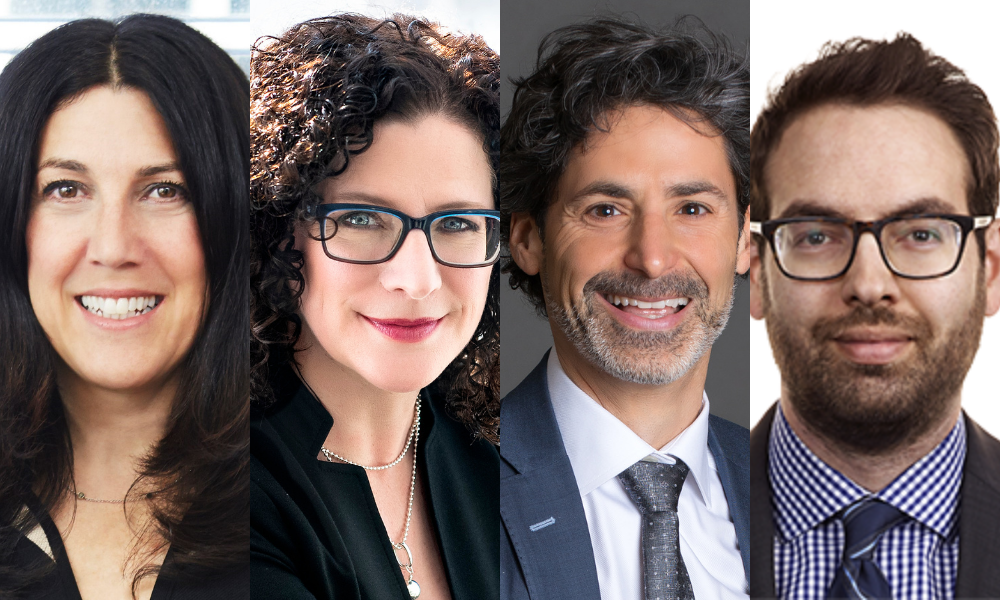 After pandemic restrictions pushed the legal profession to embrace some its technological potential, law firm leaders are trying to figure out how to go further, and how to balance the old way of doing things with the new.
Hosted by Collin Smith, director of marketing at LexisNexis Canada, Canadian Lawyer convened a panel of the Canadian Law Awards' finalists from the Best Use of Technology in a Law Firm Award. The panel included Charles Gluckstein, president of Gluckstein Personal Injury Lawyers; Cynthia Mason, founder and managing lawyer at Mason PC; Susan Wortzman, partner at MT>3, a division of McCarthy Tétrault; and Al Hounsell, solutions development team manager at Norton Rose Fulbright Canada LLP.
For the panellists, who have spent much of their careers searching for technological solutions to legal-practice problems, the shifts demanded by March 2020 were familiar territory and their early adoption produced opportunities as the rest of the industry caught up.
When Gluckstein began at the firm founded by his father, he said he had free reign to pursue his interest in technological innovations. By 2000, the firm was paperless and Gluckstein was involved with the Ontario Trial Lawyers Association and tech startups developing office management and customer relationship management (CRM) tools for client retention. He developed his own client portal, which allowed clients to log in, drag and drop documents, and view their case's progress.
"Oftentimes, I was the guinea pig to try out these technologies in my office," said Gluckstein. "From the client's perspective, I always thought that the client should have 24-hour access to their files and be able to get in touch with some sort of operational side of the case to get key documents and see where their case is on the litigation timeline."
"Client communication is always the biggest issue in litigation cases."
The firm implemented software-as-a-service (SaaS) and cloud-based programs. When a handful of senior staff decided they did not want to commute to the firm's downtown-Toronto office anymore, these services allowed for hybrid work, pre-COVID. Gluckstein even adopted Zoom, as a voice-over-internet program, in January 2020. When COVID hit, the firm adapted quickly, he said.
"In my area of practice, in personal injury, a lot of the law firms were not ready. A lot of the small boutique practices did not invest in technology, did not have paperless offices, and they weren't able to adapt. So that created quite an opportunity for our office, in being a tech leader and innovating with them and helping them partner with us to innovate."
Since the pandemic began, Gluckstein Personal Injury Lawyers has grown from 30-to-60 people, and the firm's grasp of technology has led to four strategic partnerships, said Gluckstein.
Mason PC, which operates throughout Ontario, has always been remote. Now that law firms are bringing their lawyers back to the office, Mason said her firm is adding members who want to remain in a work-from-home situation.
"It has enabled us to grow our team and to continue to add people who want to stay remote and to continue to work in those circumstances," she said. "And it really has just expanded the pool of lawyers who are looking for opportunities to practice in a niche area like ours and to do it under their own terms."
"There is a lot of data out there that the staff do not want the commute," said Gluckstein. "Especially to a Toronto office. And so, we're still figuring it out."
For Mason, adopting technology has always been about creating efficiencies for clients, "doing more with fewer people – and faster, to achieve a very consistent result." Mason is a trademark lawyer and agent, and the ability to offer services at a lower cost is essential for small business owners, who she has seen consistently do not protect their names, logos and taglines because the process is viewed as expensive and intimidating.
"When you can create a system that makes it really easy and really affordable, and then you present it in a way that shows the value of protecting these properties, it's a lot more appealing to a lot more people," she said. "It's a positive result for clients. It's a positive result for us, as well."
In litigation, there remains "tons of opportunity" to enhance practices with technology, said Gluckstein. The initial tasks involved in launching a claim – signing up clients, obtaining records, delegating tasks on a CRM, hiring experts and sending them records – can be improved with artificial intelligence, he said.
"Of course, you have to put some quality control in there, but a lot of this can be enhanced and sped up," said Gluckstein.
"And there's no reason why you couldn't be on the doorstep of a trial in six months after your incident arises."
"Instead, we're looking at three-to-five years. So, I'm always thinking of how we shrink that piece down. And I think technology is a big part of that answer."
During COVID, McCarthy Tétrault had a case involving a large number of clients the firm needed to onboard. Wortzman's team built a solution through which clients submitted their name, the firm searched for conflicts, then a retainer would be sent for a DocuSign signature. Then, the firm sent the clients a questionnaire asking about their claims, damages, and losses and allowing them to upload their documents. McCarthy Tétrault created dashboards where they could analyze the claims and damages, and see who the parties were. There is room for machine learning and other measures to move this process forward, says Wortzman.
COVID also forced the courts to progress technologically ten years in six months, she said.
But while they have made significant advancements, said Gluckstein, the courts have a lot further to go.
"One of the bigger barriers on the litigation side is, of course, the courts," he said. "And although they've advanced probably ten years… with the use of hybrid and virtual hearings, they still are terrible with respect to scheduling. And we need an AI assistant to help plugging in dates and perhaps moving cases along. Because clients want to know, especially in litigation cases, how much is the case worth and when is it going to finish?"
There are now two-year delays because of COVID, and while technology allows lawyers to submit materials, obtain experts, and move the cases more efficiently, they still cannot get the finality of a trial date without "a big leap" from the court system, said Gluckstein.