GCs from BMO Financial Group, Ontario Teachers' Pension Plan Board and Tilray join Fasken panel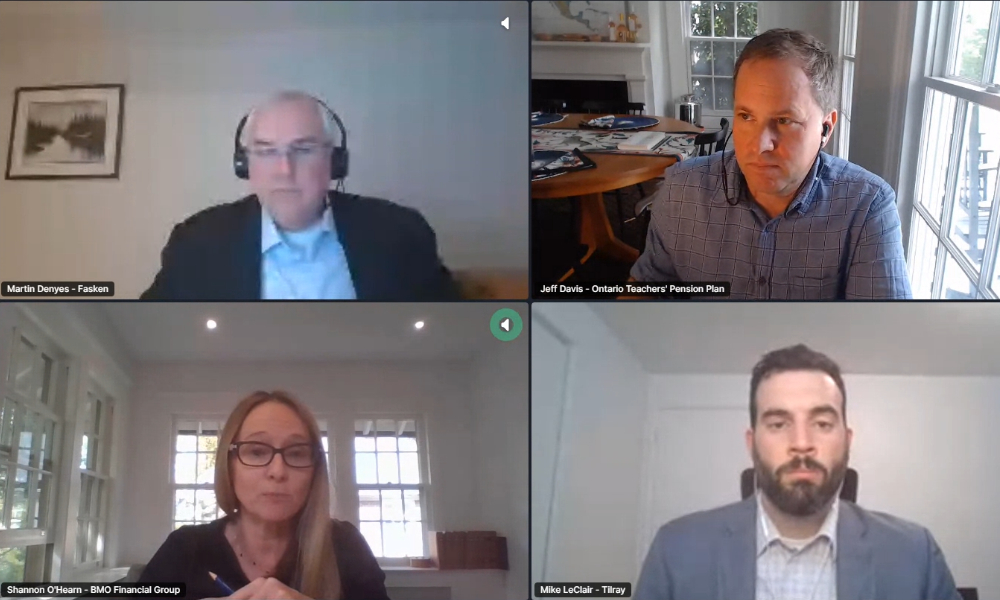 Embracing innovation in the legal profession is increasingly critical at a time of disruption and uncertainty. Martin Denyes, regional managing partner for the Ontario region at Fasken, was joined by three legal department leaders for a panel discussion on this topic at the first annual Canadian Law Awards last month.
Representing some of the finalists of the Fasken Award for Law Department Innovation, Shannon O'Hearn, vice president and chief operating officer, legal and regulatory compliance at BMO Financial Group; Jeff Davis, chief legal and corporate affairs officer at Ontario Teachers' Pension Plan Board; and Mike LeClair, assistant general counsel at Tilray shared their experiences with Denyes, who took the role of panel moderator.
Panelists began by discussing how the efforts of their legal departments in innovation have stood the test of the pandemic this year. BMO is making use of technology for such matters as compliance monitoring, assessing customer complaints and assessing criminal risks, for example.
"Having had those innovative technology platforms and solutions in place prior to the pandemic helped us switch over to work in the new reality," said O'Hearn. "In particular, where we've had increased workloads coming out of the pandemic circumstance, the ability to leverage technology has been quite helpful." Maintaining a "how to "mindset has also positioned the legal team at BMO to continue to run the business and support customers during the new reality, O'Hearn said.
All the panelists agreed that staying connected as a team is critical for developing innovative ways of thinking. In an effort to focus more on behavioural economics and psychology and its relationship to performance, Ontario Teachers' Pension Plan Board adopted the strategy of examining research that had been conducted by highly successful companies like Google, SEAL Team Six and Pixar, and making use of this research.
"We knew we wanted to be innovative, trusted, creative and adaptable, and in studying some of that research we know the secret sauce," said Davis. Successful teams share a strong sense of belonging, vulnerability and a sense of purpose, Davis said, adding that he views technology as an enabler of innovation, rather than the most important element. Creating an environment that is ripe for innovation is really the key, he said.
"We tried to explore how we do our jobs from more of a behavioural standpoint, which led not only to a lot more innovation, but to the feeling of safety and to the willingness to take chances and fail. As a division, we feel a lot more connected to one another," said Davis.
Staying connected is also vital at Tilray where a global COVID-19 task force was created with a goal to dealing with issues globally and to send out regular and consistent messaging to employees at the global cannabis and hemp company.
"This isn't a moment in time to just survive. This is a moment in time to pivot and rethink the way that we do things, and maybe that is innovation," said LeClair, who chairs the task force. "What it really comes down to is thinking differently and making sure you are aware of and solving the unique challenges that are presenting themselves."
Innovation should be viewed as a mindset and an approach – rather than a goal to be achieved, according to LeClair. The implementation of innovation is as important as the idea itself, and clear communication to the team is a huge part of that process, in his view.
"We have technology that enables innovation and processes that enable it, but really, it's about your approach to thinking through problems and solving problems," said LeClair.
O'Hearn recommended setting the tone and being curious, in order to create a culture of innovation. In-house lawyers should use their legal lens to think innovatively for the business, she said.
"If you set the tone from day one, you are going to inspire people and create that mindset, so then people are going to be curious and they're going to be interested and engaged to think about how it is that they do their job," said O'Hearn.
The panelists all agreed that taking learnings from the past seven months will greatly benefit them in the post-pandemic world.
"In the past seven months we've all discovered things that we don't need to be doing any more or that we've decided to do differently and more effectively. You've developed some new practices, so just hang on to those and bring them forward," said O'Hearn.
LeClair added: "We've all identified things that we've learned and challenges that we've faced, and all those elements lead to a more aware mindset. Make sure you carry those things into your future business."