Eleven law firms made new announcements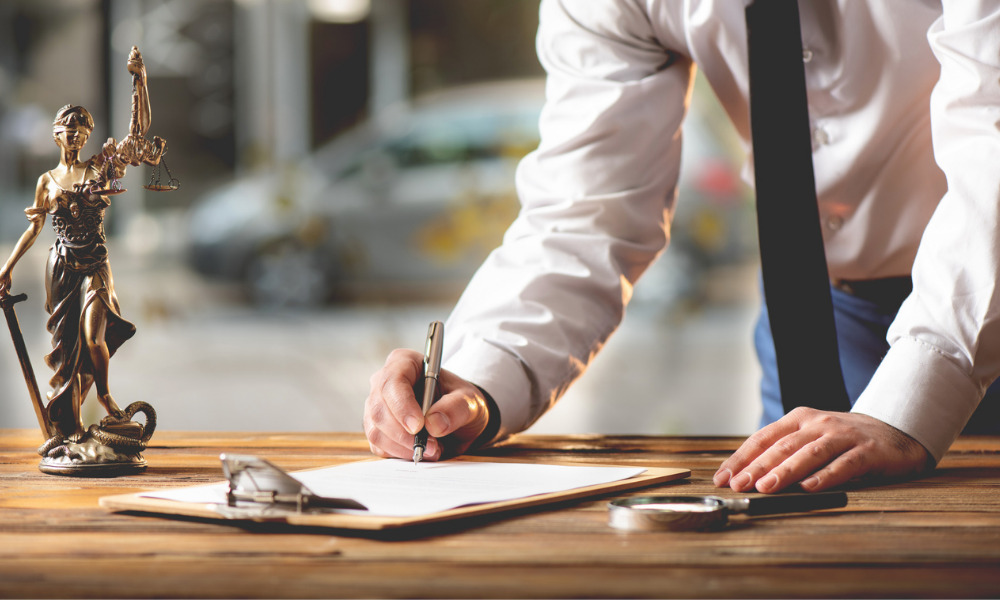 Welcome to this week's roundup of movements among major law firms, in which we sum up significant hires, promotions, departures and other announcements.
Bennett Jones LLP
The firm announced the appointment of Jeffrey Leon as co-lead counsel of the Public Order Emergency Commission. The commission is an independent public inquiry created by the Governor in Council following Canada's declaration of a public order emergency on Feb. 14.
Leon is a firm partner with extensive expertise in administrative law, business litigation, and class actions. He acts for companies, directors, officers, and individuals in domestic and cross-border securities, product liability, professional negligence, and health care proceedings.
In addition, Leon has advised independent committees on various corporate transactions and acted as counsel and neutral in domestic and international arbitrations. He is a former president of the American College of Trial Lawyers and the Advocates' Society.
Cain Lamarre LLP
Stéphanie Destrempes joined the firm as a lawyer and partner in the Montreal office.
Destrempes specializes in business law, franchise law, and business law. She assists clients with business model implementation, infrastructure development, trademark protection, network management and restructuring, and drafting of commercial agreements.
She regularly represents franchisors and distributors in the restaurant, retail, service, healthcare, and wellness industries.
The firm also welcomed the following lawyers:
Mélanie Riuz-Pardo − real estate law, business law, and transactional law
Roxanne Roy − aboriginal and constitutional law
Sarah-Maude Belleveille-Chenard − aboriginal and constitutional law, environmental law, and litigation
Farris LLP
The firm welcomed four new associates:
Jake Harrigan
Mohnaam Shergill
Sandy Lun
Spencer Gair
Harrigan, Shergill, and Lun joined the litigation group, while Gair joined the corporate group.
Fasken Martineau DuMoulin LLP
Pierre-Christian Labeau joined the firm as a counsel in the Quebec City office's environment, energy and climate change group.
Labeau practises primarily in indigenous law, constitutional law, and administrative law. As a former legal advisor for the Direction du droit autochtone et constitutionnel du ministère de la Justice, he represented the Attorney General of Quebec in several cases before the Supreme Court of Canada.
He has acted as a negotiator for the Quebec government in territorial negotiations with several Indigenous communities. He has also assisted numerous natural resource developers in negotiating agreements with Indigenous communities.
Gowling WLG
Claire Duckworth joined the firm as the chief financial officer and a member of the Canadian leadership team.
Duckworth will be responsible for all the firm's finance functions, including strategic planning, business analysis, financial reporting, financial risk management, and process transformation.
"We're delighted to welcome Claire to Gowling WLG," CEO Steve McKersie said. "A proven financial leader with a deep commitment to service excellence, she will be a critical asset to our team."
Lawson Lundell LLP
The firm welcomed Ben Westerterp as an associate in the Vancouver office's mining and real estate groups.
Westerterp deals with mining and commercial real estate matters, such as acquisitions and sales, financing, mineral and surface title reviews, and project development
"It is a great privilege to be joining Lawson Lundell as an associate upon the completion of my articles," Westerterp said. "I look forward to the firm's continued support and guidance navigating through some of the many complex and influential legal developments both here in BC and around the world."
McCarthy Tétrault LLP
Dominic Bédard-Lapointe is now a partner in the firm's national tax group.
Bédard-Lapointe's practice focuses on tax litigation matters specific to large corporate groups, including those arising from complex corporate reorganizations and general anti-avoidance rule applications.
Aside from his legal work, Bédard-Lapointe is a seasoned speaker and author of multiple tax publications. He is currently a co-chair of the young tax experts of the Canadian Tax Foundation in Montreal.
Meanwhile, Simon Douville joined the firm as a counsel in the Toronto office's tax group.
Douville specializes in commodity taxation and sales taxes. He provides tax planning and consulting advice on corporate reorganizations, M&A, and cross-border transactions and advises businesses on indirect obligations related to their operations.
MLT Aikins LLP
The firm announced that David Filmon has stepped down as chair of the firm's executive board after five years.
"As I step down from this role, I am excited about the exceptional foundation that we have created, which will allow us to take advantage of our clear opportunities for growth in alignment with our clients," Filmon said.
Filmon has broad experience advising clients on corporate matters, including M&A, corporate finance and governance, securities law, private equity, venture capital, and financial services.
Singleton Urquhart Reynolds Vogel LLP
The firm welcomed Sean Kelly as a senior associate in the construction and infrastructure and commercial litigation practice groups.
Kelly deals with commercial and construction-related disputes involving joint ventures, product liability, public infrastructure projects, industrial infrastructure, public transportation, delay and scheduling claims, and enforcement of foreign judgments and arbitral awards.
Smart & Biggar
The firm announced that Nancy Pei was elected to BIOTECanada's board of directors. BIOTECanada is a national industry association representing many biotech constituents, including firms in the health, industrial, and agricultural sectors, academic and research institutions, and other related organizations.
Pei is a firm partner with over 20 years of patent litigation experience. He provides strategic advice on patents and data protection, patent listing, pricing and reimbursement, regulatory due diligence, and regulatory compliance issues.
She regularly represents innovative life sciences companies in patent proceedings and appears before the Ontario Superior Court of Justice, Federal Court of Canada, Federal Court of Appeal, and Supreme Court of Canada.
Stikeman Elliott LLP
Emily McRae joined the firm as an associate in the Toronto office's employment and labour group.
McRae has extensive expertise in employment standards, investigations, human rights, terminations, and employment aspects of corporate transactions. She also has experience representing clients in administrative tribunals, arbitrations, and collective bargaining negotiations.
Submit all your law firm news, including appointments, moves and other professional news, to our legal publications by filling out this form: https://www.canadianlawyermag.com/move-submission
You may also send information to [email protected].