Sacha Paul is the LSM's first Indigenous president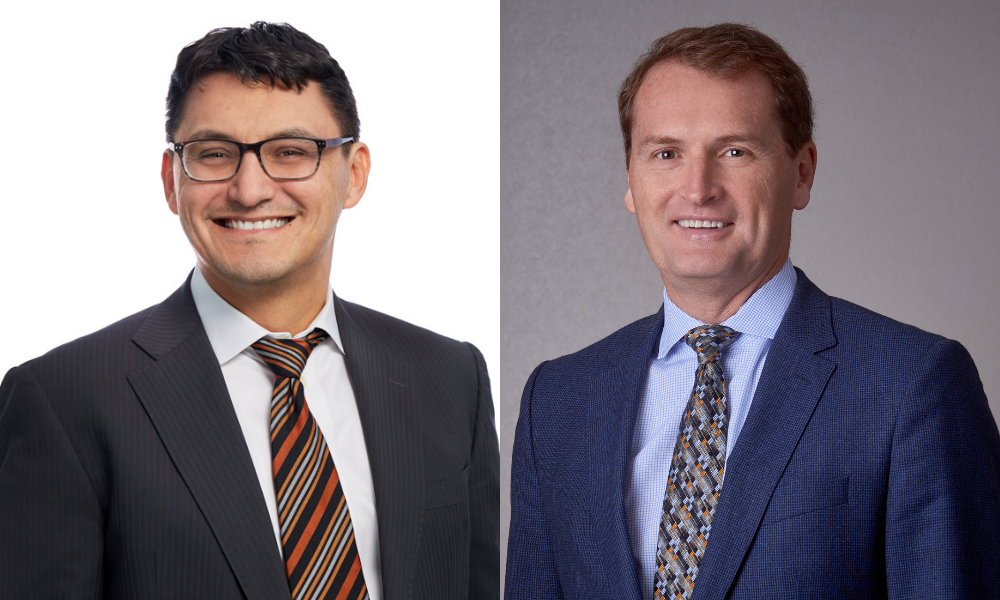 Finding ways to seed more Indigenous lawyers into Manitoba's legal system and increasing access to justice for all Manitobans, especially in rural areas, are the top priorities of the new president and vice-president of the Law Society of Manitoba.
"I really think it's important to increase the number of Indigenous in Manitoba," says Sacha Paul, himself a member of English River First Nation and among the few Indigenous lawyers to have served as a bencher at the province's legal, regulatory body. Paul is also the first Indigenous president in the Law Society of Manitoba's history and the regulator's 102nd president.
Paul says he considers it critical that he serve on the law society executive while at the same time running a busy administrative and Indigenous law practice at Thompson Dorfman Sweatman LLP in Winnipeg.
"The level of Indigenous involvement in the law society has been minimal," he says, reflecting the small numbers of Indigenous lawyers in Manitoba. "So that's one of the reasons why I wanted to be part of the law society's activities, to bring that voice to the table." Paul has been involved as a bencher with the law society since 2016 and served as vice-president the past year.
While some efforts are ongoing to increase diversity among the ranks of lawyers, Paul says more is necessary. In particular, "it remains important to try and keep the eye on the ball in increasing the number of indigenous lawyers in the profession," he says, noting that less than five percent of lawyers in Manitoba are of Indigenous background, compared to a provincial Indigenous population of about 20 percent.
Paul says that creating an environment that encourages Indigenous students to consider the potential to become lawyers should start early in the education system. But even at the post-secondary level, more could be done to recruit Indigenous students to consider law school.
"The universities and law schools play an important role," Paul says, in helping Indigenous students see themselves as potential lawyers. The law society and provincial branch of the bar association also must look at ways to help boost the number of Indigenous students to think of law school as a viable option.
Paul points out that more is needed to determine why Indigenous undergraduate students are not going the law school route in pursuing careers. "I have to give you the unsatisfying answer that we don't really know, and we need to find out why," he says. "Perhaps it's financial issues that are front and centre, perhaps they don't 'like' the law for any number of reasons, but we need to find out sooner than later."
There's also the question of ensuring that all Manitoba's lawyers have "competency training" regarding Indigenous issues, like programs launched in Alberta and other provinces.
"We're in the process of content development," Paul says, adding: "Like other jurisdictions have done, we need to develop a Manitoba content component."
Paul has been a lawyer since 2003, articling at TDS, then eventually becoming a partner at the firm, where he has worked on cases ranging from workers' compensation issues to human rights and various aspects of aboriginal law. He has acted for several large hydroelectric utilities and mining companies, engaging indigenous groups in resource development.
The society's new vice-president, Wayne Onchulenko, also wants to increase the number of Indigenous lawyers in Manitoba. Typically, the vice-president of the law society becomes the president of the following year, so, Onchulenko says, he wants to "follow in the footsteps" of Paul and law society presidents before him in "keeping the momentum going" on that issue.
Onchulenko, a graduate of the University of Manitoba who has been a partner or director at Levene Tadman Golub Law Corporation in Winnipeg since 1991, wants to continue the law society's efforts to improve access to legal services in the provincial, especially in rural areas.
"I grew up in a small town on the border between Saskatchewan and Manitoba," he says, "so I understand the challenges in attracting lawyers to set up practice in small towns." Onchulenko adds part of the law society's responsibility is to help educate young lawyers on the high quality of life in these smaller municipalities and the potential for having a satisfying career in a more rural setting.
However, Onchulenko notes he also understands that attracting those lawyers may not always be possible, so the law society must look at other ways of helping provide access to justice for Manitobans. This could include finding ways for non-lawyers trained in legal matters to give some of these services and looking at the potential of virtual means of providing access to legal services.
"In many ways, the pandemic has provided us with some tools that we can continue to use to give Manitobans better access to justice by making it easier for lawyers who may be based in Winnipeg or other larger centres to serve clients in rural areas."
About 90 percent of lawyers in the province work out the Winnipeg area, disproportionate to the 60 percent of Manitoba's population who live in the vicinity of Manitoba's capital.
Says Onchulenko: "One of the law society's primary goals is to protect the public by giving them a voice in the legal system through having an advocate on legal matters."