Regehr discusses working for Indigenous clients, compulsory cultural competency training and more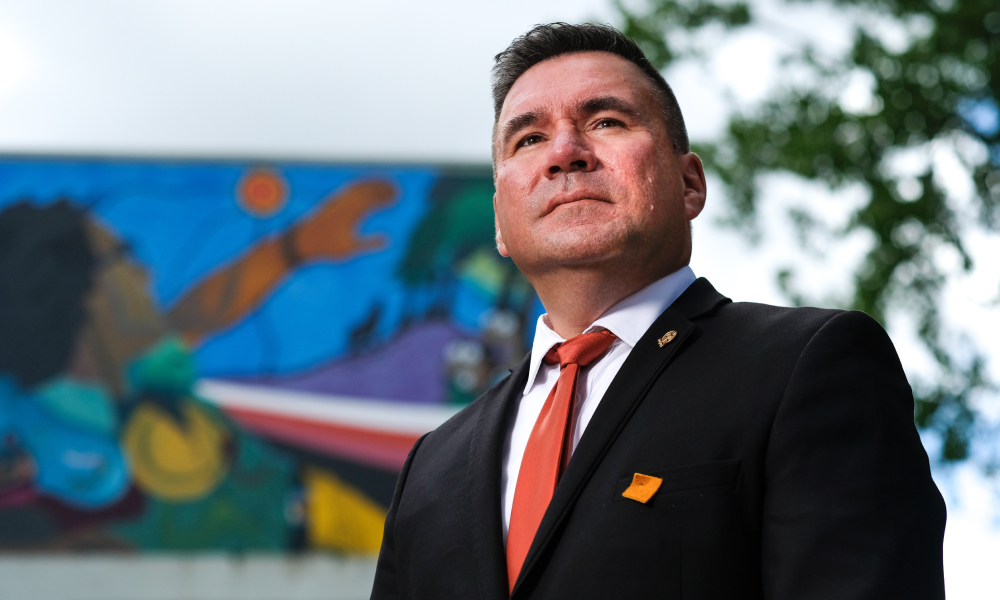 Some lawyers are lured to the profession because it can be relatively well-paying and is generally a respectable career. For others, the motivation can come from the awareness or experience of unfairness or injustice and the desire to learn how to work within the system to change it.
Raised in Winnipeg and a member of the Ballantyne Cree Nation, Brad Regehr always knew he wanted to work with and for Indigenous people. He initially thought he would do so as a teacher, but after studying history at the University of Waterloo, he was rejected from teacher's college. Being a lawyer had not occurred to him until a friend was planning to take the LSAT, and Regehr asked to take a look at the study material. He saw that legal studies could provide tools for the type of advocacy he was interested in pursuing, so he took the test, went to law school, and was called to the bar in 1997.
After a year of practising at a large, downtown-Winnipeg law firm, Regehr joined a First Nation organization implementing a treaty land entitlement settlement under Manitoba's Treaty Land Entitlement Framework Agreement. He was in that role for around three-and-a-half years before moving to D'Arcy & Deacon LLP, where he practised for 15 years and focused on representing First Nations. While Aboriginal and Treaty rights formed part of these clients' legal issues, Regehr also advised on governance, employment, contracting, commercial transactions, and general legal issues. In 2017 he moved to Maurice Law, practising out of the firm's office in Headingly, Man., a suburb of Winnipeg.
A prominent aspect of Maurice Law's work is on specific claims – historical grievances First Nations primarily have with the federal government. "One of the rewarding things of this job, but also one of the frustrating things, is every day, I learn something that occurred that makes me shake my head. It astounds me that this happened here in Canada," says Regehr. "But I have yet to find a single First Nation that does not have multiple historical grievances."
"It's what motivates me but also frustrates me."
In 2015, he became the Manitoba Bar Association president, a position he held for two years because of the appointment of his vice president to the bench. Then in 2020, Regehr became the first Indigenous president of the Canadian Bar Association.
While leading the CBA through the COVID-19 pandemic and multiple CEO changes, Regehr also wanted to focus the organization on truth and reconciliation. In response to TRC Call to Action #27, Regehr and the CBA developed The Path. Call to Action #27 called on the Federation of Law Societies of Canada to ensure that lawyers receive appropriate competency training, including the history of residential schools, the United Nations Declaration on the Rights of Indigenous Peoples, treaties and Aboriginal rights, Indigenous law, and Indigenous-Crown relations. The course, worth six hours of professional development credit, "serves as an introduction to the history of Indigenous peoples and their relationship with European settlers, the British Crown and Dominion of Canada." The Path explains the legal issues surrounding Canada's Constitution, the Indian Act, treaties, Supreme Court of Canada case law, the Gladue principles and other Indigenous issues relevant to criminal law.
Through his legal practice and being an Indigenous person himself, Regehr understands the relationship between First Nations and the Crown, and the history that has led to it.
"You can't move forward until you understand the past so that you understand why you're moving forward in a particular direction," he says. "I think bringing that knowledge to the CBA helped in terms of its true, sincere desire to be involved in reconciliation."
However, Regehr says there has been pushback.
In October 2020, the Law Society of Alberta made The Path mandatory for all active lawyers in the province. The motion amending the rules to mandate the course passed with a two-thirds majority. Fifty-one lawyers later signed a petition seeking the removal of the rule, which led to a special meeting of the LSA. The motion to remove the resolution mandating the course was defeated by a 3-1 margin, with nearly 3,500 of Alberta's 11,000 lawyers casting votes.
Starting Oct. 1, The Path will also be compulsory for lawyers in Manitoba. Regehr expects pushback in his province as well.
"What that all tells me is that this is exceedingly important because it tells me that there is a group of people who do not want to learn, who do not want to come to that understanding of why we are where we are…. Those people tell me that this stuff was necessary."
For young lawyers pursuing a legal career to advance justice or to help right a historical wrong, Regehr recommends finding like-minded people and seeking mentorship. He adds that a lawyer's passion must be accompanied by collegiality and respect.
"We are combative when we need to be combative. But being collegial, being respectful will help you solve your clients' problems faster and better."
He says there are lawyers who choose not to apply that standard to their practices. "I don't find them impressive. I think they're doing their clients a disservice. Because one of the things that we are taught as lawyers is yes, certainly there's a time to fight. But really, we are around to solve problems… You will never be faulted for being collegial.
"And get involved with the law society and bar association. Give back to your profession."