Canadian Lawyer's Top 25 Most Influential in the justice system and legal profession in Canada is now in its 10th year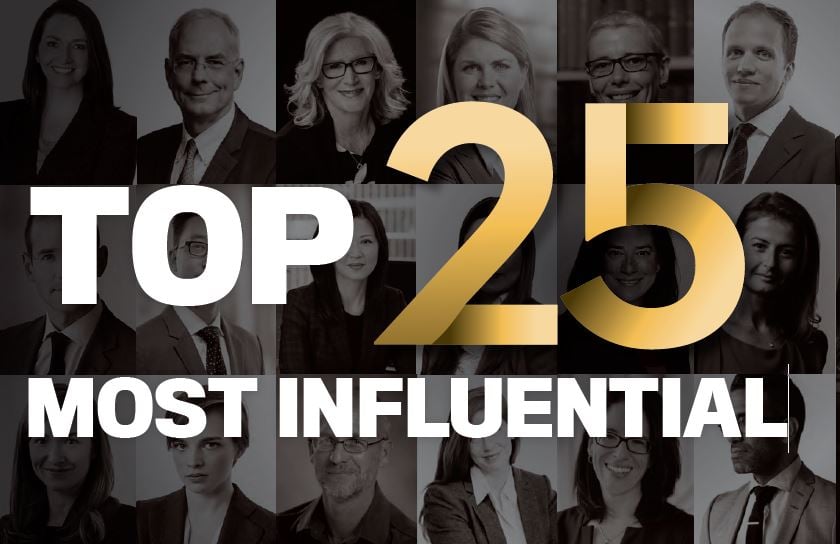 Canadian Lawyer's Top 25 Most Influential in the justice system and legal profession in Canada is now in its 10th year. The pride lawyers, judges and others have in their colleagues is illustrated by the fact that our Top 25 list is always the magazine's most-read and most-commented-on feature. Its popularity is shown both in terms of the number of nominations we receive as well as the number of votes in the public poll.
We start by putting out a call for nominations to legal groups and associations representing a variety of memberships and geographies, our readership and our internal panel of writers and editors.
We were then met with several hundred nominations, which our editorial staff pared back to 149 candidates who met our criteria.
Once we had the long list of candidates, we posted it online and polled our readers for their votes — and you let us know in droves what you thought. A total of 6,327 people voted and commented on those whom they thought made their mark over the past 18 months. The final list of 25 honourees is based on that poll with input and the last word from the Canadian Lawyer, Law Times and Canadian Lawyer In house editorial panel.
Being named as one of Canadian Lawyer's Top 25 Most Influential highlights the important and significant work jurists have done in the last 18 months or so. Some of them may have steered big deals or made the most splash on the news pages, but it's about their leadership and influence in a larger sphere. It is not a recognition of lifetime achievement. Inclusion in the Top 25 speaks to a level of respect, the ability to influence public opinion and to help shape the laws of this country and others; contribution to the strength and quality of legal services; involvement and impact within the justice community; and social and political influence and involvement.
The Top 25 is split into five areas of influence with five winners in each of the following categories: Business, including litigation, deals, class actions, etc.; Human Rights, Advocacy and Criminal; Changemakers: leaders, innovators or catalysts; Government/Non-profits/Associations, including academic and the judiciary; and In-house Counsel, lawyers who have had made an impact on the profession and society from inside companies and organizations. Nominees were put in the category in which the individual most recently exercised their influence, which at times might differ from their main area of practice.
Once again, our list featured a naturally occurring gender balance and diverse cast of winners. We did not apply any editorial authority to shift the composition of the list in the name of diversity; the fact that so many accomplishments in Canada's legal profession were achieved by lawyers from historically marginalized groups, reflected by voters' choices, did that for us.
Dominating news headlines for her role in the SNC-Lavalin scandal, with her supporters crediting her with defending an independent judiciary against political interference, the top vote-getter this year was Jody Wilson-Raybould. The former minister of justice and attorney general of Canada won the Government/Non-profits/ Associations category, making her the most voted-for winner on the list. Wilson- Raybould shares the category with Meara Conway, a staff solicitor for Legal Aid Saskatchewan, who also made waves for her involvement in a big-ticket news item. Conway acted for Indigenous activists who had set up teepees on the grounds of the Saskatchewan legislature. The Justice for Our Stolen Children Protest Camp stood in Regina for 197 days, first erected following the acquittals in the Colten Boushie and Tina Fontaine murder trials.
Canadian Lawyer received a deluge of nominations for animal rights lawyers. Rebeka Breder rose to the top of the list and won the Changemakers category. The emerging practice specialty involves helping clients with pet custody, dog bites and "dangerous," "vicious" or "aggressive" dog designations. For recent action on the animal protection front, Breder is acting for the Canadian Horse Defence Coalition's lawsuit against the federal government for the overcrowding of horses while they are being transported for slaughter.
Since Canadian Lawyer's last Top 25 issue, Canada ended 95 years of marijuana prohibition. Legalization has generated new billable-hour opportunities as firms launch cannabis practice groups to serve the industry. But Kyla Lee — a Top 25 winner in the Human Rights, Advocacy and Criminal category — has shown it is also an opportunity for police overreach. The Vancouver criminal lawyer has advocated against changes to impaired driving laws that coincided with legalization and instituted a roadside test for blood THC levels, arguing that the inaccuracy of the test means it could ensnare sober drivers who still have THC in their blood from prior use. Lee has taken the issue to Ottawa, having been invited to present before the House of Commons Standing Committee on Justice and Human Rights and fought for judicial reviews of administrative decisions in her home province.
Ubiquitous in the nominations Canadian Lawyer received were lawyers with a dedication to Indigenous rights, a characteristic that appeared to be a vote-getter, as lawyers in this area also tended toward the top in the final results. Indigenous law even appeared among our winners for the in-house counsel category, in the form of Bruce Wildsmith, legal counsel with the Assembly of Nova Scotia Mi'kmaq Chiefs and the Kwilmu'kw Maw-klusuaqn Negotiation Office. The retired Dalhousie University professor was nominated for his pursuit of access to natural resources and treaty rights for Nova Scotia's Mi'kmaq.
To make the top five, let alone stand out among our Business category, is a feat, and Emmanuel Pressman, chairman of Osler Hoskin & Harcourt LLP's corporate group, has done so with his recent work on some massive deals. He acted for Constellation Brands in its $5-billion investment in Canopy Growth and South32's $2.1-billion acquisition of Arizona Mining, and he represented Blackstone Property Partners when it acquired Pure Industrial Real Estate Trust for $3.8 billion, just to name a few.
While only 25 of the incredible nominees can make the final list, every single one of them has had an impact, and their accomplishments are many and varied — not to mention many of them done behind the scenes or on a pro bono or volunteer basis. It's these lawyers and judges from across Canada and many different areas of practice that uphold the greatest ideals of the profession and are worthy of recognition.
Human Rights, Advocacy and Criminal
Government/Non-profits/Associations