Yoon is creating legal foundations as the charity's first in-house lawyer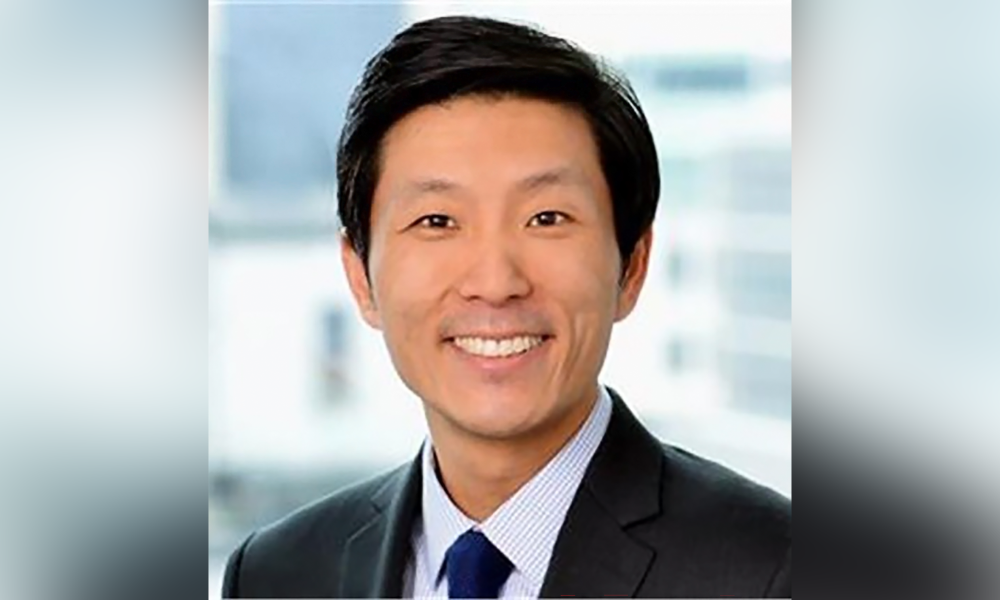 When he started his career as a litigator on Bay Street, Jamie Yoon never imagined that he would one day be running the legal department at a charity. Since joining Kids Help Phone – a 24/7 e-mental health service for children and youth – in June 2022 as the charity's first in-house lawyer, Yoon has been focused on building a robust and comprehensive legal function from the ground up to support the organization in its innovation and growth strategy.
Operating since 1989, Kids Help Phone operates as a "virtual care expert" that offers millions of youth a safe and trusted place to talk to counsellors by phone, text or online. Yoon is now supporting the organization through a digital transformation which will allow young people to access support whenever they need it across multiple different channels.
"Covid really did change the conversation around youth mental health," says Yoon. "We've been on the front lines as we were hearing from youth every day on the challenges they were having growing up in the pandemic, with remote learning and the pressures of social media, so that heighted awareness is really driving our transformation," he adds. Yoon is focused on supporting that transformation process as a partner to the business growth.
In his role as general counsel and corporate secretary, Yoon is busy establishing foundational elements in terms of contract management, a privacy program, and enterprise compliance. He also acts as a partner to the human resources and labour relations department, and he is working to build a culture of risk awareness for the organization, together with a well-defined risk tolerance.
"I think what sets good in-house counsel apart from the rest of the pack is the ability to translate risk into opportunity," says Yoon. "Being able to assess risk across multiple dimensions and then converting those challenges into pragmatic, actionable advice that offers clients options and likely outcomes results in better decision making and it also builds good institutional muscle memory."
Yoon sits at the executive table as a member of the senior leadership team and, as corporate secretary he advises the CEO and board of directors on all matters touching on corporate governance.
Privacy is top of mind for Yoon as he watches upcoming amendments to the Consumer Privacy Act as well as amendments to the PIPEDA and the Artificial Intelligence & Data Act.
"Given the sensitivity of the information we deal in, we're always mindful of our responsible and ethical data stewardship," he says. "The changes we're seeing in artificial intelligence and machine learning offers some tantalizing promises of expanding our reach and accelerating our growth horizons, but we need to ensure it's done responsibly."
Kids Help Phone is currently exploring ways to make use of new developments in AI and machine learning by examining potential strategic partnerships and collaborations.
As the charity is competing with profit entities that have abundant access to capital, innovating to maintain an edge is critical.
"Innovate, innovate, innovate or die," says Yoon. "At Kids Help Phone, we call it 'the innovation imperative' and it imbues how we do our work every day and how we plan for our work in the years to come."
Understanding the business and the top priorities of his clients allows Yoon to add value and build sinews between his department and others, therefore allowing the legal function to be seen as a solutions-broker.
Yoon's goal for 2023 is to continue being a strong partner to the business by equipping them with the legal tools to engage with vendors and partners in a strategic way, while he focuses on high impact, deep value strategic initiatives, and creates the legal foundations necessary to achieve the charity's vision for 2030 and beyond.
"I see my role as a small expression of the broader organizational commitment that Kids Help Phone makes to youth, and to honour the trust that's placed in us along the way," says Yoon.