Ho discusses Technology Supercluster project which helps in fight against COVID-19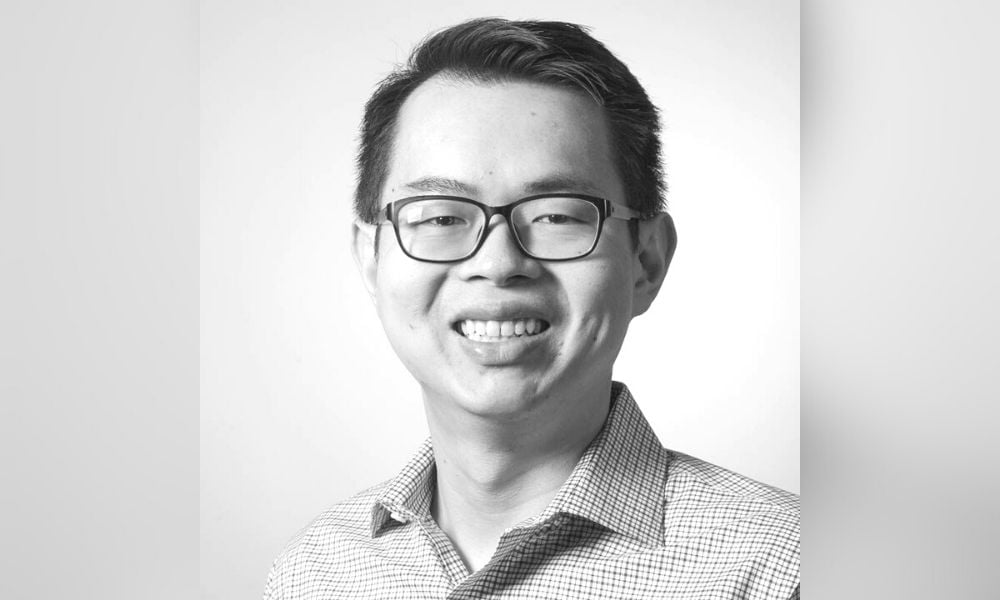 As the developer of wireless mobile ultrasound devices, Clarius Mobile Health saw a spike in sales amid the pandemic, which created great opportunities for the company to grow. In fact, 2021 saw the business grow by 60 to 80 per cent, as the company's ultrasound devices can be used to detect lung pathologies that often present with COVID.
The company's small legal department is involved in supporting all global sales activities, managing contracts with international buyers, and ensuring that all goals are reached.
"As a young business, we are not rigid in our processes yet, so we are constantly trying new things, which means legal risks have to be considered," says Julian Ho, director of legal affairs and intellectual property at the Vancouver-based company.
The business grew despite supply chain constraints and elevating prices that presented challenges throughout the pandemic at Clarius. Ho turned his mind to the business side as well as maintaining a legal focus to support supply chain constraints. He also supported the operations team in negotiating contracts and clauses due to extended delivery times.
In working with other departments within the company, Ho strives to maintain a pragmatic and business-focused approach.
"We had to be sensitive on both sides of the economic equation; managing our costs but also seeing what the market will bear in terms of what we can sell," says Ho. "Contracting should reflect a business understanding and obviously there's certain risks that are more likely than others, so having close contact with the business team is critical."
Clarius is a member of the Digital Technology Supercluster – a federally funded organization that brings together over 1,000 industry leaders, start-ups, scaleups, academia, researchers, community stakeholders, and government agencies from across Canada, with a goal of sparking economic development, advancing industry-led research and development, and positioning Canada as a global leader in digital technologies.
As part of the Supercluster's 'Intelligent Network for Point-of-Care Ultrasound' project, Clarius has been working with a British Columbia-based consortium of partners led by Providence Health Care to deliver its portable handheld ultrasound scanners to rural doctors across the province. Initially targeting heart and pregnancy-related conditions, the project quickly pivoted and expanded when the Supercluster launched its $60-million COVID-19 program at the start of the pandemic. Healthcare practitioners in rural and Indigenous communities across B.C. have been using the scanners to detect pneumonia in suspected COVID-19 patients in real time.
"It's a collaborative effort among hospital authorities, academia and industry to interact and support each other in a way that wouldn't have been otherwise possible," says Ho. Working with the Supercluster collaborative model, Ho and his team were able to address the challenges of negotiating IP licensing terms to ensure that artificial intelligence used for the scanners was licensed correctly among the various partners, including emergency medicine doctors, anaesthesiologists, and veterinarans.
"The legal challenge was figuring out the IP licensing issues over and above the operational issues, and interacting with the company to support the project," says Ho, who joined Clarius in 2016 after starting his legal career in Toronto.
Supported by his team which includes a patent agent and a legal assistant, Ho manages all legal matters, in addition to the patent portfolio and all IP matters. He also takes care of contracts for customers and vendors, and brings a legal lens to all decisions for the company as a member of the executive team.
As Ho's mandate includes responsibility for intellectual property, he is constantly monitoring all IP matters for the company, including patent applications for new product launches. Top of mind for 2022 is patenting machine learning algorithms and artificial intelligence, so Ho continues to monitor changing policies in different jurisdictions.
Other priorities for Ho this year include operationalizing and systemizing more activities for the growing organization.
"As we continue to grow, it's going to be important for us to scale and systemize to keep up with the requests that come into the legal department from sales, marketing, finance, or any other area of the business," he says.