Lawyers say several trends signal momentum will continue into 2021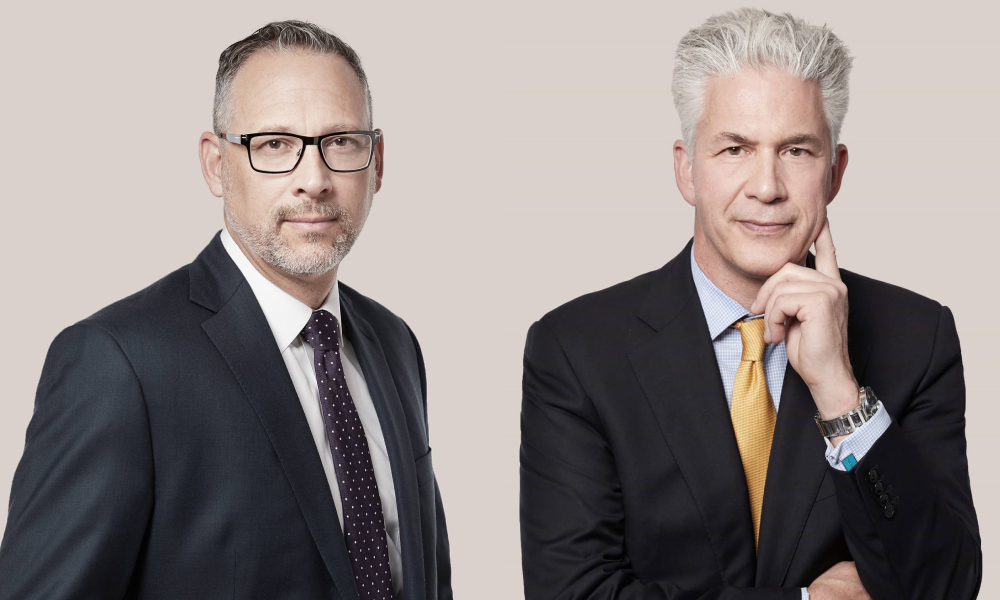 While there was a predictable lull in M&A activity accompanying the global descent into the COVID-19 pandemic, a sluggish spring was followed by a historic surge in deals in the tail-end of the year, which is expected to continue into 2021, say Fasken Martineau DuMoulin LLP partners Grant McGlaughlin and John Turner.
"Despite COVID, our securities and M&A group is having the busiest year in its history," says McGlaughlin, co-leader of the firm's private equity group.
Several factors indicate the momentum will be carried into 2021, say McGlaughlin and Turner. Historically low interest rates are unlikely to change. A COVID-19 vaccine is making landfall, which will loosen the border and drive more cross-border commerce and trade. Incoming President Joe Biden is expected to raise taxes, which may lead to companies accelerating plans for investment and deals. Private equity firms are loaded with unspent cash reserve. The firm also expects consolidation in the agribusiness, hospitality, healthcare and financial sectors to drive deals.
Canada's technology sector and booming capital markets also point to a prosperous new year, says McGlaughlin, adding that the TSX is more active than it has been in a decade.
"There's tons of tech IPOs hitting the market, which is great to see. And not surprising, because a big winner from the pandemic is technology companies," he says.
One example of tech making a splash in the capital markets is Nuvei Corp., says McGlaughlin. Fasken acted as counsel for the electronic payment processing company in its $880-million initial and secondary public offerings. Closed on Sept. 22, Nuvei's was the largest IPO the Toronto Stock Exchange had ever seen in the technology sector.
The Nuvei deal was also significant for the fact that, despite the IPO's size, the company stayed exclusively within the Canadian capital markets rather than cross-listing, says McGlaughlin. The deal also "paved the way" for other tech IPOs, he says.
Another industry heating up is the electric battery space, and the political climate in the U.S. is trending in favour of the renewable energy sector and the cannabis industry, says Turner.
"Obviously, with the election of Biden in the U.S., the opportunities for cannabis on the U.S. side have certainly increased, and we've had a fair amount of deal work there in the cannabis sector," he says.
The positive conclusion to a tough year was a pleasant surprise for the firm, says Turner.
"I'm also on the firm board. At one point, we were thinking, there may be legal work, but nobody is going to be able to afford to pay us, given what's going on with COVID. But that certainly hasn't turned out to be the case. It's been a been a banner year, I'd say," says Turner, who is lead of Fasken's global mining and securities, mergers and acquisitions groups.
In March and April, because gold and other precious metals have an inverse relationship to normal economic activity, "the mining world was going crazy," says McGlaughlin. There were lots of capital raisings and M&A deals, "it was very robust," he says.
But every other sector was on pause. Companies were in "triage-mode," doing emergency capital-markets deals to raise their balance sheets, wondering if they had the cash to survive the crisis, says McGlaughlin. By June, companies gauged COVID-19's risk, realized the economy would not be ground to a stop and that, while the pandemic would create some losers, there were also going to be winners, he says.
"Come the end of August, September, deal activity was happening," says McGlaughlin.
Fasken has 300 M&A lawyers across Canada, and all are busy right now, he says.
"We set out, a few years ago, to try and broaden our bench strength on the M&A team… And we're very fortunate that we've done that, because it's paying off well for us," says Turner.