One of the Top 25 Most Influential Lawyers is speaking at the Women in Law Summit on Feb. 16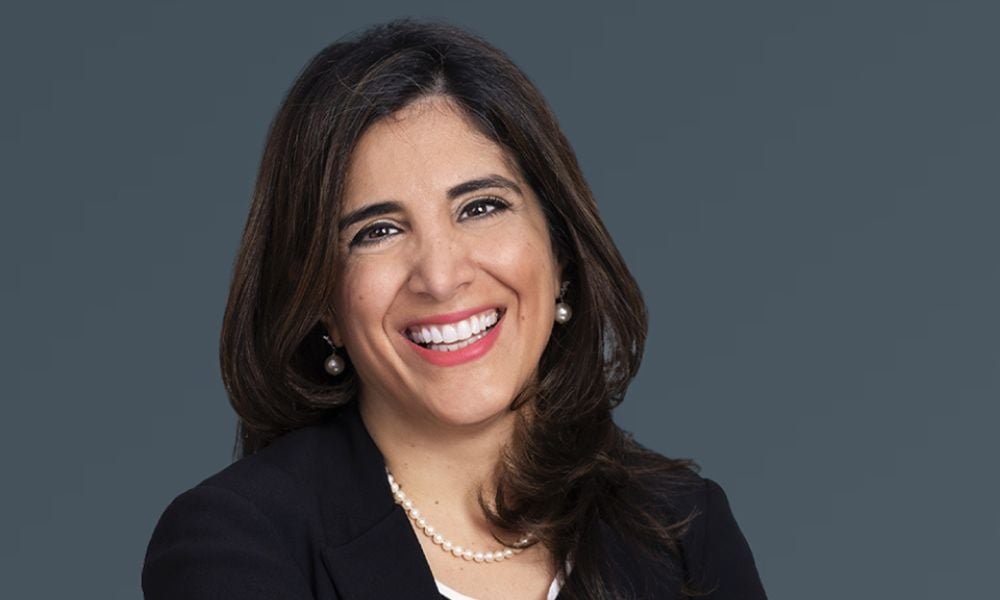 McMillan LLP partner Leila Rafi "gets it" when considering that many women lawyers have a hard time promoting themselves in their career, thinking that it's "bragging or somehow overly self-promotional."
But Rafi, who practises capital markets and securities law, also knows building a profile is crucial when it comes to performance reviews and bonuses.
"You have to think about putting your views out there in a broader context, that you have opinions and information that you want to share with your colleagues," says Rafi, who will be speaking about "Negotiating beyond the gender pay gap – How to represent and empower yourself" at this year's Women in Law Canada summit on Feb. 16.
She adds that women generally are not as socially conditioned as men to talk about themselves. However, it's helpful, whether inside or outside the firm, not to be shy about sharing your views and having people notice. If you keep to yourself, "no one is going to know you except those that work around you," she says. "And nobody's really going to take as much interest in your career as you do, that's just the reality, so you have to take charge of that yourself."
Rafi, who has won many accolades for her practice of law, including being named one of Canadian Lawyer's 25 Most Influential Lawyers in 2022, says she enjoys expanding her network by building her profile outside the law firm, attending and speaking at conferences. While the early part of a legal career is building up the skills to be a good lawyer, Rafi says, "as you progress building a profile is what sets you apart."
She adds: "A lot of lawyers can sit behind a door and draft a contract. But what's your network? What do you bring to the community? Are you a mentor? And do you bring attention to your firm by building that profile for yourself?"
Having a profile helps during discussions on performance and compensation, she says, "because people have listened to you, and you have something to say, so you don't get lost in the shuffle and passed over for opportunities."
While it's important to "get out there," Rafi says it is also helpful to be strategic in how you do it to avoid overexposing yourself. This can also have the advantage of "paying it forward" and helping others within the firm who might benefit by you passing along opportunities.
"I think it's really good to help people who are younger than you and who may not have these chances right off the bat," she says. "If there is somebody who seems like they want to get involved on the speaking circuit, for example, and you're busy, or you're conflicted that day, giving them exposure can help them build a profile as well as bring good karma to you."
Being strategic about building a profile also means thinking about getting yourself known for specific things. "For example, you don't necessarily need to be known for being able to talk about everything related to securities law. So, do you want to focus building your profile on talking about M&A? Corporate finance? Investor rights? Governance?"
According to Rafi, building a profile within the larger community can also pay off in practical ways. For example, becoming known as someone who can introduce colleagues to others is "a huge advantage" that can be leveraged during performance reviews.
Preparing a list of accomplishments before heading into a compensation or performance discussion can also be helpful. "I always make sure to have a list of things I've done, goals accomplished and what I hope to do next," Rafi says. While firm management technically should know what you've done, nobody "knows about what you have done more than you do, so don't leave it to chance."
Rafi adds that lawyers shouldn't be afraid to ask for a bonus but "know your where you stand, and what's competitive," though that can be tough because matters of compensation are often "hush-hush."
Performance reviews are also the time to discuss what you want to do moving forward or if you want to change your career path.
"I'm always surprised that younger lawyers will suddenly quit saying 'I hated the work I was doing.' And I think, 'Well, why didn't you say anything?' There's always an opportunity to ask about doing something else."