Prominent legal-tech investors among new funders of the cloud-based legal-entity management platform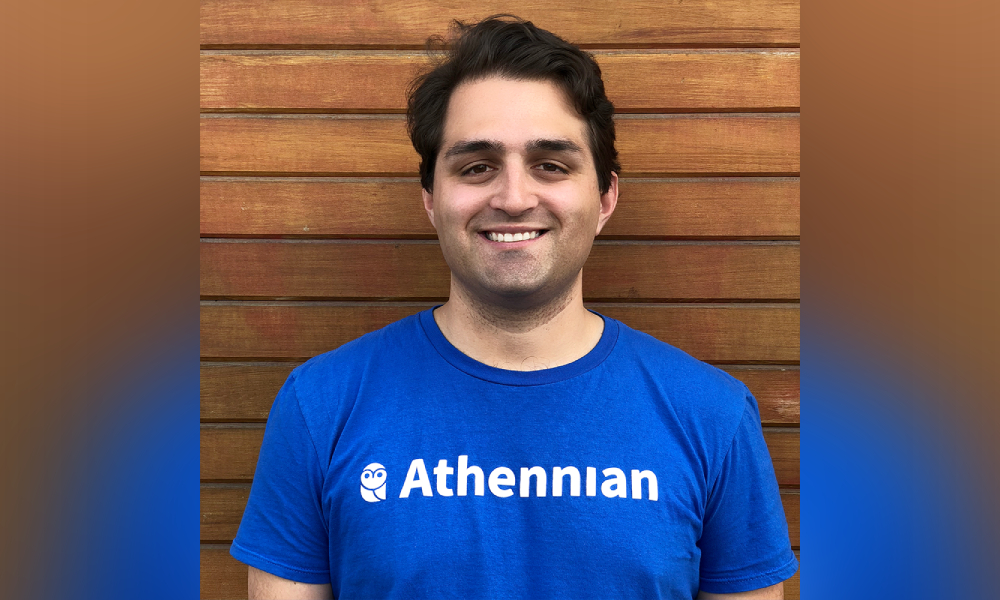 Initially, COVID created "very uncertain" times for Athennian, the cloud-based legal-entity management platform, says CEO Adrian Camara. But the rush to digitize, brought on partly by the remote-work revolution, has transformed the uncertainty into opportunity.
The company announced Thursday it has raised $7 million in Series A extension funding, with Clio CEO Jack Newton among the new investors. The three-year old company raised another $8 million this past September, on top of $2 million in seed financing in 2019.
"People sort of came to terms with new reality and figured out how to use Zoom. We saw revenue accelerate like crazy," says Camara. "That's why we financed in the summer. And really, this financing now is just really a reflection that revenue continues to accelerate for our business."
Athennian says the funds will be directed at expanding services, boosting product development and hiring additional global talent.
Camara is a lawyer, who graduated from Western Law in 2015 and worked for a short time at McCarthy Tétrault LLP in Calgary. The company was founded to digitize corporate entity information and capitalize on the "enormous amounts of data" on thousands of corporate entities to which law firms and legal departments have access, he says.
"We thought that a lot of that data is sitting in very, very old systems, in binders, spreadsheets, shared drives – stuff like that," he says. "We thought there was an opportunity to build a cloud product that could centralize the data in the cloud, create automation and create digital experiences around it. And so that's what we've done very successfully over the last three years."
The company's Canadian customers in Big Law include Cassels Brock & Blackwell LLP, Torys LLP, Fasken Martineau DuMoulin LLP and Dentons.
Driving business amid COVID is the fact that as organizations shift to remote work, many want to transfer on-premise software – accessible through VPNs – as well as physical minute books onto the cloud, says Camara. COVID has accelerated growth for Athennian and other business software ventures, as companies have had to quickly move from analog physical platforms, he says.
"We're working with dozens and dozens of law firms and corporate customers across Canada that are essentially undergoing sort of mass digitization processes, where they're just scanning millions and millions of pages and uploading them into Athennian."
Along with Clio's Jack Newton, Athennian's most recent funding included Arthur Ventures and Touchdown Ventures.
"We're excited to have both," says Camara. "Touchdown are probably the most active Series A, Series B venture fund in legal tech. They have a very broad portfolio."
"It's super great to have Jack… Clio's, obviously, a great inspiration for us in terms of how to build a very large company in in the legal technology market."